FEIN spare parts
A FEIN power tool is often made fully functional again by fitting a genuine spare part.
The FEIN spare parts catalogue therefore contains everything you need for your tools.

For a successful spare parts search, you need either the tool type or number.



Example of type plate FSC 1.6 X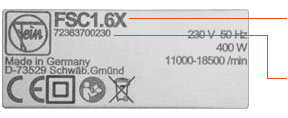 Tool type

or

Tool number / order number
(available as of production year 2007)


Tool type: Enter FSC 1.6 X e.g. in the spare parts catalogue search screen under "FSC*" (without speech marks) and then select the "FSC 1.6 X" model and 50Hz, 230V country-specific variant from the list.

Enter tool number: 72363700230 in spare parts catalogue search screen under order number and you will find your tool immediately.





All prices indicated are the recommended retail price from C. & E. Fein GmbH and do not include any shipping or packaging costs required or the relevant VAT. The prices valid on the day of delivery are decisive for the calculation. Subject to transmission errors and changes to technology, form and appearance.
Benefits:
Our workshops stock all regularly required spares